FATHER'S DAY GIFT GUIDES
Shopping for Dad can be difficult, especially since he can never decide what he wants! Grunt Style is here to add ease to your Father's Day shopping with the ultimate gift guide to get him exactly what he will love!
ALL PROFITS OF THE 2023 GS MEMORIAL DAY SHIRTS DURING THE MONTH OF MAY WILL BE DONATED TO CHILDREN OF FALLEN PATRIOTS FOUNDATION
SEE WHAT MEMORIAL DAY MEANS TO GRUNT STYLE

The most patriotic monthly subscription. Subscribe today for a monthly tee, 10% off all orders, free expedited shipping, and extra loyalty points.
EXCLUSIVE PATRIOTIC SHIRT EACH MONTH
FREE EXPEDITED SHIPPING FOR MEMBERS
EARN 2.5X POINTS ON CLUB MEMBER ORDERS
WHY THE FUCK HAVEN'T YOU JOINED
EXCLUSIVE TEE FOR MAY
FOR MEMBERS
$5 FOR YOUR FIRST MONTH
FOR NEW CUSTOMERS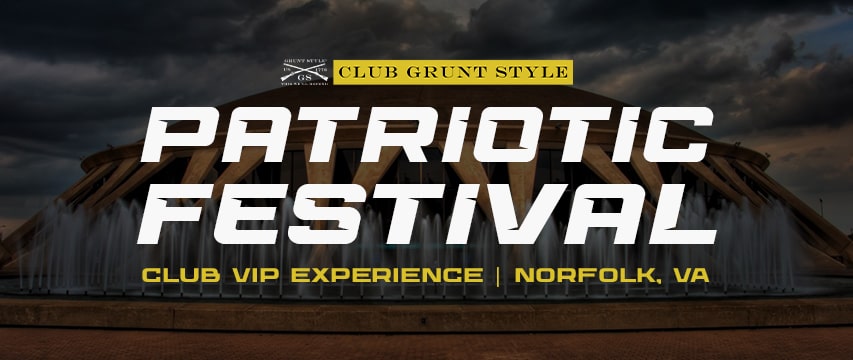 PATRIOTIC FESTIVAL
CLUB VIP EXPERIENCE - FOR MEMBERS
YOU + ONE GUEST
Receive two free concert tickets for Saturday, May 27th. Compimentary food and beverage.
$20 REDUNDABLE RESERVATION FEE
Refunds will be issued at time of pickup.
WILL-CALL AT GRUNT STYLE TRAILER
Tickets must be picked up by 4pm.

American Grit is our content hub for all your lifestyle, travel, good cookin', gun shootin', good old fashioned uncensored humor, and more. This stuff is coming straight from our brains to your veins without censorship diluting the product!
AMERICAN GRIT PODCAST
American Grit hosts tough and often avoided conversations with people of influence that look to illuminate our listeners by sharing information that directly impacts the Grunt Style Culture
VIOLENT BUT TRUE SERIES
Why VBT? Well, we understand your needs. You work around a bunch of f*ckwits, you live around a bunch of soyboys, and you've always wondered if anyone has ever bayoneted thirty people in one day.
GASLIGHTING THE WARFIGHTER
PACT ACT SERIES
The Grunt Style foundation is honored to partner with 8 Veteran Service Organizations and their leaders to discuss the historic passing of The PACT Act.
KEEP CHECKING BACK WEEKLY FOR NEW ADDITIONS
Keep it fresh with weekly launches that will fuel your patriotisms and give you something to talk about.